Famicase 2023: Koyamachou Watch Repair Shop
This post is part of a collection on Famicase.
This is my eighth year participating in Famicase, and this year my submission was the very first one to arrive, which means it'll be at the very top of the list, just like I thought might happen last year. My entry this time is "小山町時計修理店" or "Koyamachou Watch Repair Shop".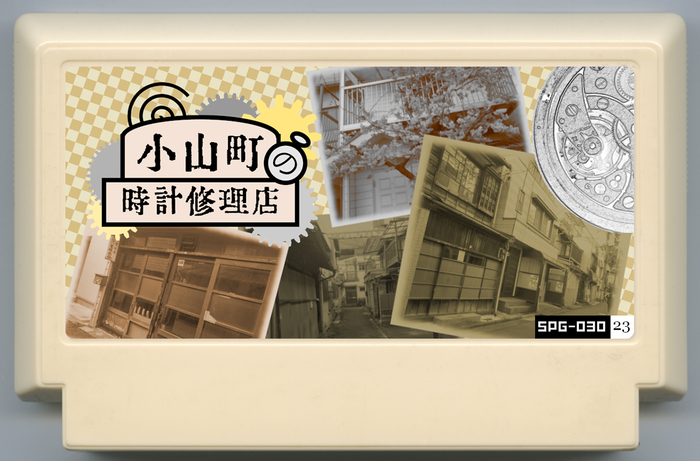 The description:
古びた商店街の片隅に構える時計修理店。訳あって、 突然店を引き継いだあなたは、時計修理の技術を 覚えながら、客と商店街の人々との交流を深める。 前店主の記録を振り返ることで、店と地域の かつての姿も蘇る。
Or in English:
In the corner of an aging shopping arcade lies a watch repair shop. Suddenly thrust into taking over ownership of the shop, as you learn the craft of watch repair you'll deepen your relationship with the customers and people of the arcade. Going over the notes of the prior owner, the old days of the store and area will come back to life.
My entry this year is transparently a reference to the area I've been living in for over ten years, which is currently undergoing a long delayed redevelopment. While the demolition isn't happening as soon as I thought, it has gradually reached the area I walk through everyday, so it's only a matter of time before everything is gone. The photos used on the cart for this year are all from the real Koyamachou.
Despite having the idea for doing a cart about watch repair for Famicase last year, I only decided to incorporate Koyamachou pretty late, so I didn't have as much time to work on the visuals as I would have liked. But I'm glad that I can put a little of the neighborhood out there for more people to see.
Looking forward to next year. Ψ
Update 2023-08-30: This casette was made into a visual novel by Wondering Artist! Definitely give it a play.