Munch's Burger
Munch's Burger is an American-styled hamburger restaurant in Shiba, not far from Tokyo Tower.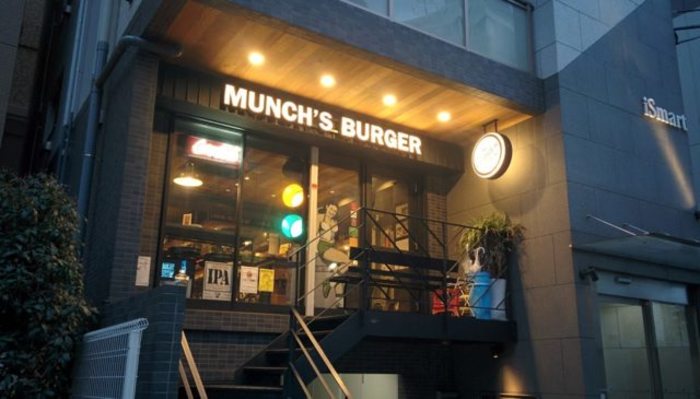 The burgers at Munch's have a small, soft, juicy patty with thin sauce that makes an envelope basically mandatory for eating; the fresh vegetables complement the sauce's acidity quite nicely, and the home-made buns are airy but toasted to keep them from dissolving too rapidly as they soak up the juices. It's delicious and the only general weak point is that like many shops where the sauce eventually dissolves the burger, keeping the lettuce as a whole leaf means it will almost inevitably fall to the back of the envelope as the burger collapses, making things messier than they have to be. Somewhat unusually for envelope burgers, the envelope doesn't come with the plate but is already at your table, next to the napkins, so remember to put the burger in it before taking a bite.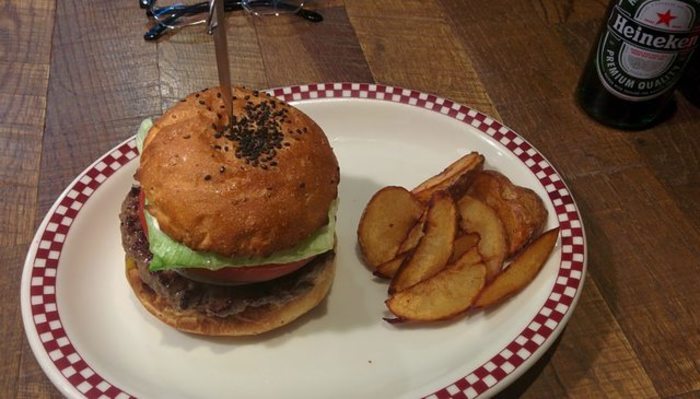 The french fries are excellent, thin wedges double-fried for a tough, savory skin just separated from the soft insides.
They're quite proud of their beer menu, and while they do have a good number of American craft beers there isn't a lot of variety, mostly just different kinds of IPAs. Since I can't stand IPAs I opted for a Heineken.
Their burger menu has many choices. I was excited to see they had a grilled onion burger, but unfortunately the onions were grilled until they were soft, not grilled until they were sweet - not bad, but not what I was hoping for and not terribly exciting. Next time I'll probably try a conventional cheeseburger.
The inside of the shop isn't that large and while the surrounding area is quiet they are rather popular; I didn't have to wait on a seat but I did end up sharing a table with someone. If you have a group you might want to call ahead or have a backup plan.
All in all Munch's was a tasty burger and is well worth a visit if you're in the area. Ψ