Maruyama Gyoza Factory
Maruyama Gyoza Factory is an excellent gyoza restaurant near Kouenji station.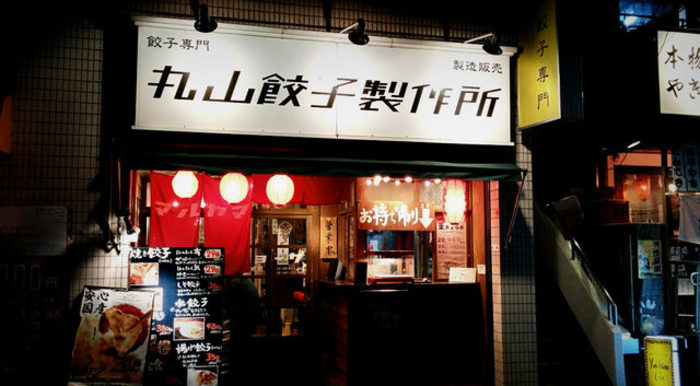 I was shopping in Kouenji and wanted a place to eat, so I checked the Tokyo Gyoza Report for shops in the area and found Maruyama. Unfortunately, even though it wasn't too late they were out of non-garlic gyoza. That wiped out about half their menu, including the shiso and "negi-baka" gyoza I was looking forward to, so instead I settled for their normal (pan-fried) gyoza and a plate of the deep-fried gyoza.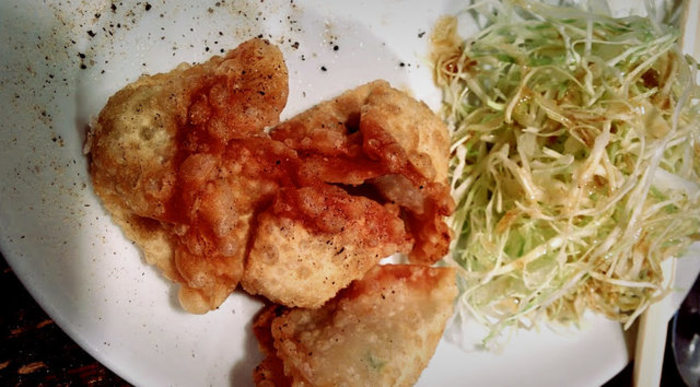 Deep-fried gyoza are usually more of a curiosity than something you'd eat more than once so I wasn't expecting much, but I actually ended up ordering another plate of them. Deep-fried gyoza I've had before were made like samosas, with a moderately thick skin that was soft on the inside and the usual gyoza filling, but these were more like fried wontons. The filling was also different from their usual gyoza, drier with more garlic and less liquid. The dusting of salt and pepper made them an intensely flavored treat.
Finding good deep-fried gyoza was a pleasant surprise, and I look forward to going back and trying some of their non-garlic gyoza sometime. One thing to keep in mind if you go is that the deep-fried gyoza take a while to make and the portions are small, so you may want to order an extra plate up front. Ψ